Richings Park today ...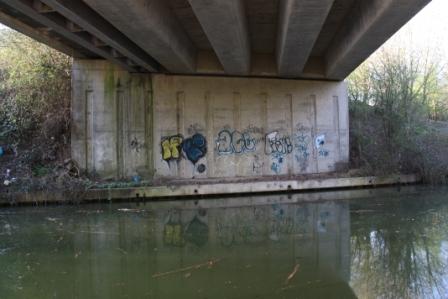 Under the Motorway
Roads & Tracks
Thorney Lane, running all the way from St Peter's Church in Iver through Richings Park to Sutton, Horsemoor Green and Langley Marish and connecting with the road to Thorney Mill, has probably existed for more than a thousand years.
For much of that time its use was to connect the manor with its more remote farms and the rich parish land to the south, but it became more important when Richings Park became an estate in its own right. At times in the past, a section was also known as Richings Lane. Perhaps not surprisingly some of the modern Richings Park roads have their origins in some of the old tracks to fields and homesteads, which were themselves influenced by ancient long gone features. The Sykes brothers tapped into this vein of history when naming the roads of the Estate.
The large area of Thorney Wood dictated the course of the roads with
those to the west of Thorney and Colnbrook curving round the wood. Originally most travel was on foot on tracks that lead from Colnbrook to Iver passing along Dole Slade, then across the Ridgeway to Iver.
Changes to the roads in Richings Park were made by John Sullivan who bought the estate in 1786. A sketch map from the conveyance dated 1792 shows the original roads and the changes were made in 1795 resulting in the formation of the present Old Slade Lane as shown.
North Park was the northern boundary of the park ground of Richings Manor formed from the old track to Sutton and Parlunt during John Sullivan's changes. More recently it was a track leading to Market Lane and Meadfield Road and Langley. This route was lost during the war as the Hawker airfield extended right through. At that time the route from Richings Park to Langley was via North Park which only extended just beyond the drive up to Home Farm, along a dogleg through
Home Wood (which extended between Home Farm and Sutton Lane) and out into Sutton Lane alongside the farmyard. Thence to the A4 and back to Langley.
In more recent times the A4 and A40 became major roads and source of increasing traffic and then came the motorways - the M4 in 1963 and M25 in 1986. In addition to the resulting pounding traffic, these roads have bounded and carved up our locality so that it not easy to image how free, open and peaceful it used to be.
The present street names were an attempt by the Sykes brothers to preserve what they felt to be some of the important historical connections: Bathurst Walk, Somerset way, Wellesley Avenue, The Poynings. The new straight stretch of road, cutting off St Leonard's Walk (the original Thorney Lane) was briefly known as Hache Way. The early names of Syke Ings and Syke Cluan were Northumberland Avenue and The Earl's Walk. One early brochure mentions and