Richings Park today ...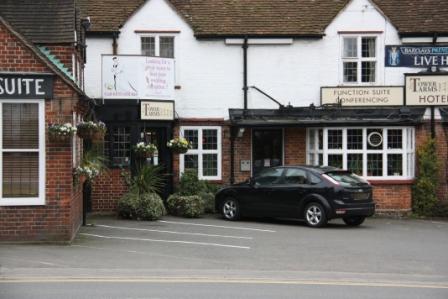 Tower Arms Entrance
Park is covers some of its original site.
In 1352 Edward III gave the Church and Manor of Iver to St George's College Windsor and records there show that timber from Thorney Wood was used to repair local churches and other buildings. In 1545 Windsor had to surrender Iver to Henry VIII and during 1547 the hamlet of Thorney and the Manor and Rectory of Iver were granted by Edward IV to Sir William Paget who also held the Manor of West Drayton. Thorney Wood remained in the ownership of the Lord of the Manor of Iver (Lord Paget, Earl of Uxbridge) and by 1760, 80 acres had become cultivated fields. Thorney Wood was still evident on the 1920 map and it is possible that the trees recently felled at Main Drive were some of the last traces of Thorney Wood.
Little is known about about consecutive settlements at Thorney over the years but the common fields, the river and the mill with their associated occupations must have
been of great importance. The Domesday Book mentions a water mill at Thorney and in 1519 the tenant was William Duffield, who had a thirty year lease as well as the farm. Complaints are recorded from earlier in the century when Ralph Aubrey, clerk to Prince Authur, Henry VIII's brother, obstructed the road to the mill. Aubrey is buried in Iver church. The mill stood on the Colne Brook, a tributary of the river Colne further east in West Drayton. Originally a flour mill, during the 18th and 19th centuries it produced various forms of paper and there is a mention of oil milling here during the middle of the 19th century. By then the mill employed about 30 people. During the 1920s it became a tube mill and after the war it was used as a store and packaging depot for Simoniz, the car polish company.
In 1563 and Elizabethan Survey of the Diocese of Lincoln listed 30 families at 'Trynley' (there were 98 at Iver). The large Tower Estate map of Hunstmoor
and 'Thurney' drawn in 1736 shows all the land, farms and houses held by Christopher Tower. A significant number of dwellings at Thorney, mostly linked to the farms are shown as well as the medieval field lay out and a large area of 'Thurney Wood'. The 1801 census records 30 dwellings at Thorney and in 1811 the census lists 60 inhabited houses with 202 males and 161 females. By 1851 the population seems to have decreased to about 300 people. Most of these dwellings and the mill itself have long since vanished.
The Parish
The modern Parish of Iver dates from 1862 when the boundaries of the civil and ecclesiastical parish were modified.