Richings Park today ...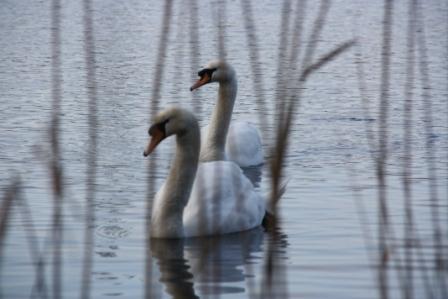 Swans at Thorney Park
The Plaza Cinema (Kinema)
The Sykes decided to build the cinema in 1926. This decision was vigorously opposed by the company secretary who pointed the difficulties in making it viable when there were 7 other cinemas close by. Nevertheless, the cinema opened on 19 Jun 1928 and operated until the end of 1940. It seated 566 (with a capacity for a later gallery/balcony to seat a further 300).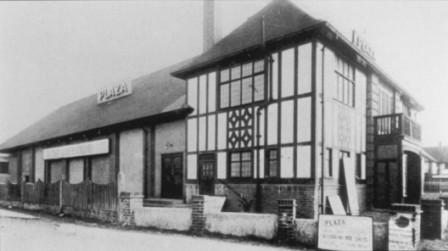 Plaza Cinema
It was provided with a sizable stage 35 feet wide and 23 feet 6 inches deep and dressing rooms on either side. There was an ample foyer and proper toilet facilities as well as the usual offices on the ground floor and a
good staircase leading to a café with a properly equipped kitchen on the first floor. Later in the summer of 1928 the instillation of a Compton Organ was completed, on a lift from a pit, at a cost of some £3000. The total cost of the Plaza was put at not less than £15,000 in the 1928 Company Prospectus, and it was described in detail in the Report and Valuation document. It was to be under the management of Mr K. A. van Biene, son of the cellist of The Broken Melody fame.
The cinema was never profitable. Mr Roberts was of the view that part of its purpose was publicity and status: a very smart model was prominently displayed in front of a diorama in the company's office in Regent Street. It was designed by Clare and its mock tudor facade and high pitched roof reflected the facing parade of shops. It provided an excellent venue for The Richings Players and the Richings Choral Society, both 'original' organisations and still active today.
After the collapse of the company in 1931 it and its car park (land originally reserved for an hotel) were sold to 2 private owners who each took out mortgages and then a property company who all continued to run it as a cinema. When it finally closed in 1940 it was bought by Mr Norrish who let it to Taylors (also of Chiswick) and it became a warehouse for bombed-out furniture from London. Strenuous efforts were made, post war, to acquire it as a community centre. However, Mr Norrish and his agents were very demanding and he let it again as a warehouse to McMichael Radio of Slough, who were taken over by Sobell Radio and then GEC. Eventually he sold it in 1959 and it was demolished to make way for Wellesley Court which was completed in 1963.
The proposed Community Centre
At the end of the war the sense of relief and thankfulness generated a high level of community spirit and it