Richings Park today ...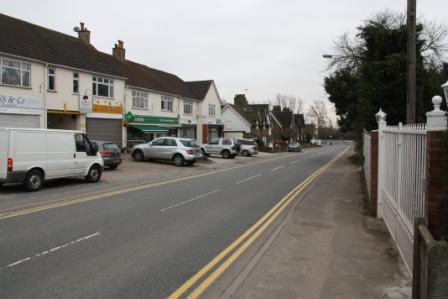 Thorney Lane Shops
A large flat site, just outside London and well situated for communication with other allied industries was required for an aircraft factory (Hawker Aircraft). Parlaunt Farm, on the west side of Sutton Lane, bounding Richings Park, was an ideal choice and so it disappeared. A range of fighter aircraft were made and tested here including the Hurricane, Typhoon, Tempest and Fury. After the war Hawker-Siddeley sold off the factory to Fords and the land for a new housing development and a new route from Sutton Lane to Langley, Parlaunt Road, was created. However, they retained the large parcel of land on the corner of North Park/Market Lane.
Home Wood was the site of a small unit of soldiers in army huts (REME?) who also occupied Thorney House. Their role was to service the smoke screens which protected the aircraft factory. The screens were set up right round the outside of Hawkers and were intended to create a fog drifting across the potential target so
as to blur its precise outline and ensure that any bombs dropped would fall around rather than on the target. Not good news for Richings Park! The screens consisted of bins about half the size of dustbins placed 2x2 at frequent intervals with chimneys topped by deflector plates and burnt crude oil. The resulting blue stench was all pervasive; it seeped in round doors and windows and rooms were full of smog. The air was sickening to breathe. In Richings Park the screen went down Wellesley Avenue and along other roads. Luckily the wind mostly blew from the south west taking the smoke away from many areas.
A ring of barrage balloons was also employed to keep enemy aircraft sufficiently high to make precision bombing difficult. One was located on the Sports Club ground. Whether these protections worked or whether the assembly plant was of less importance that the plant which made the component parts in Coventry is a matter for debate, but Hawker's was
only attacked twice each time by a single aircraft. Barrage balloons had a propensity to break loose. One drifted across the fields towards the Ridings and the late Bill Staig (at No 12) recalled the steel hawser ripping off the corner of the thatched roof of No 11.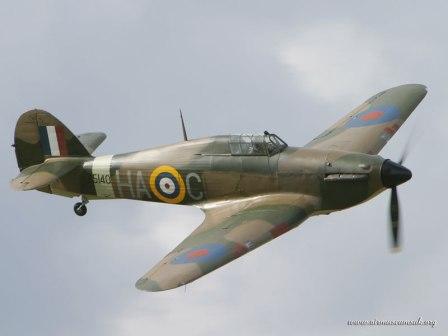 Hawker Hurricane
Another runaway drifted across from behind the shops and became caught on the gable of the Newsagents in Wellesley Avenue. As the ruptured balloon twisted and collapsed the gable became completely enveloped. The salvage team took great precautions against the risk of the escaping hydrogen exploding, unlike