Richings Park today ...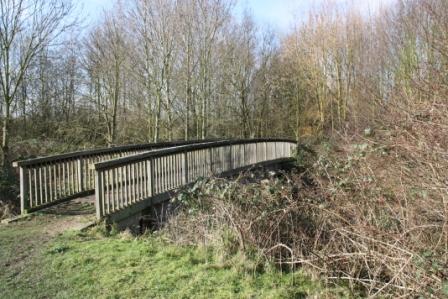 Bridge at Thorney Park
the then owner of the shop the late Mr Len Cookson - a laconic man who had gazed at the situation puffing steadily at a cigarette before going to report finding the balloon.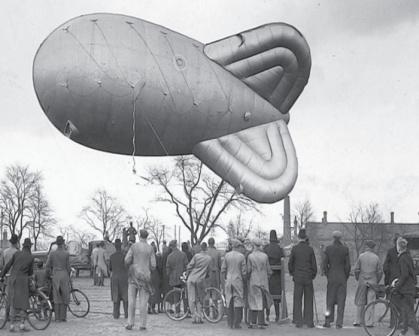 Barrage Balloon
Despite these defences in and around the airfield which would have affected the test pilots as well as enemy aircraft, it seems that only 2 planes crashed in the vicinity of Richings Park. A Spitfire came in over Wellesley Avenue and managed to hop over to Syke Ings coming down in the road and front garden of No 51. The pilot was killed but other crew survived! A Wellington bomber came down in the copse just beyond the end of the Poynings in 1940 and all the
surrounding houses were evacuated to the Tower Arms until it was established that it was not an enemy plane and the pilot had bailed out.
Another Wellington bomber from 115 Squadron on ferry duty en route to Malta struck a barrage cable at one in the morning on 30th October 1940 and came down on the Common at West Drayton some hundred yards or so west of the Wraysbury river, just south of Mercer's Mill. Sadly all the crew were killed.
The drone of flight after flight of German bombers on their way to the industrial areas of Coventry and Sheffield could be frequently heard in Richings Park. Then the heavy anti-aircraft battery at Chandlers Hill near the Black Horse pub opened up and made the doors rattle, the ceilings shake and cracked roof tiles from falling shrapnel. A great number of bombs were dropped in the Iver area by the planes returning to Germany after these raids. One night a land mine (designed to cause maximum
surface blast damage) fell near the Mansion and landed in the ditch of the ha-ha which threw the blast up, so that although the house was seriously damaged the nearby properties in North Park and Old Slade Lane escaped with only a lot of broken windows. A delayed action, high explosive bomb also fell in Wellesley Avenue between Nos 44 and 46. Mr Hudson of No 36 had been in his shed at the time and the bomb fell just a few feet away from him into soft earth. Fortunately he was able to get away before it exploded and destroyed both houses. The whole street up to the junction with Somerset Way was evacuated for a while.
The air-raid siren was heard several times a day during the periods of the 'blitzkrieg' and was more or less continuous during the sunny September days of the Battle of Britain. During the Blitz, residents stood by the Old Post Office and watched the glow of the fires in the