Richings Park today ...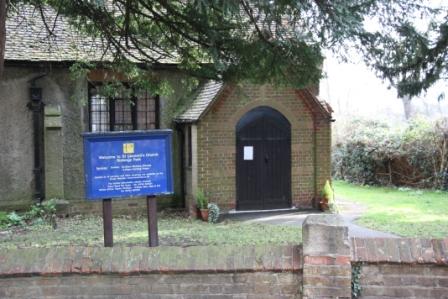 Saint Leonards Church
still be seen in the west wall. A new west end bay, vestry and porch were added. After this enlargement it became known as Thorney Church. An adjacent Hall was built in 1933. This was due to be opened by Princess Victoria of Coppins, Iver, but as she was unwell it was opened by her lady-in-waiting Lady Blanche Seymour of Iver Lodge. In 1942 it was rededicated to preserve the local memory of St Leonard who is variously the patron saint of prisoners, women in labour and horses! This change of name made a link with the Richings estate as, according to Lady Hertford in 1740, there had been a chapel dedicated to St Leonard, on the site where her greenhouse stood. Cloakrooms were provided in an extension to the Hall in 1938 and in 1968 a kitchen was added. In 1960 a new choir vestry was added and St Leonard's house, behind the Church, was built for Iver's curate and his family.
Who was St. Leonard? He was a French nobleman (c485-559 AD), hermit and monk who devoted his life
to the care of prisoners. The Norman invasion brought his fame to England and he was a popular saint in the Middle Ages. His day in the Christian calendar is 6 November. He was a godson of King Clovis I of the Franks and after he became a monk near Orleans, he later retired to a forest as a hermit. Here he was able by his prayers to help the safe delivery of a child to King Clovis's Queen who had begun to be in labour while out with a hunting party.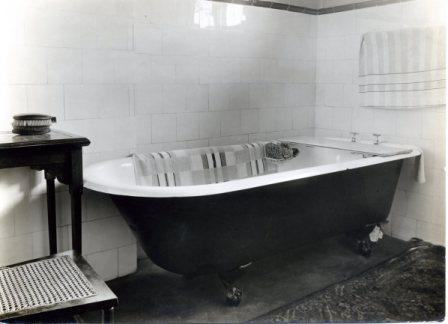 Utilitarian Bathroom
As a reward the King gave him lands - as much as he could ride around in one night on a donkey - on which he founded a monastery where he became Abbott for the rest of his life.
St Leonard is renowned for the help he gave to prisoners, by his prayers, pleas on their behalf and by raising money to pay their ransoms. This explains why he is the patron saint of prisoners and women in labour.
The Congregational Church
Now St Andrews' United Reform church, this was started in 1928 and used the Plaza for services initially. The present building opened in 1931.
For more information about the local churches see the book by Stella Rowlands available at Cornerstone.