Richings Park today ...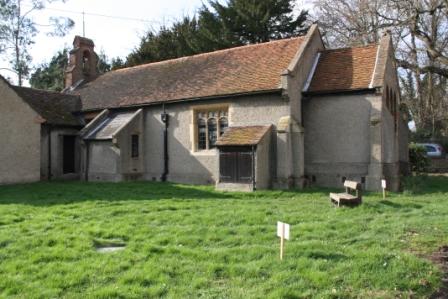 St Leonards Church - rear
Pre-history
The landscape we now see in Richings Park and Iver was created after the last Ice Age around 12,000 year ago. As the ice gradually melted the water would have flowed along in torrents carving the valleys that we now see, in particular the Colne Valley which runs across the east of the parish. When the floods ceased a great plain of mud was deposited to the south leaving large ridges of gravel in the north and these ridges or terraces became important to the survival of early man in the area. The Iver terrace was first identified in 1938 as a continuation of one which ran across from Taplow to the river Colne. As the water receded, the Thames was born and as this became narrower several further gravel ridges were left, one of these crosses Richings Park and is known as the Lynch Hill terrace. To early man such terraces represented a firm dry refuge above the damp, marshy floodplains on which to build his settlements and one of the finest and richest Stone
Age sites in the UK is located nearby in Yiewsley. It is not therefore surprising that evidence of a Stone Age site was found at Thorney Farm (see section on Thorney). Today, after thousands of years of agriculture and development these terraces are barely discernable other than to cyclists and walkers, but have been of great interest to gravel companies who have dug them wherever possible.
Medieval Times
The area which now comprises Richings Park was mentioned in the Doomsday Book of 1086 as being part of the Manor of Evreham which extended from Denham to Colnbrook, when there were 3 mills - Thorney, Iver and Hunstmoor. The manor was known as Eure, Ever or Euere - the name Iver did not appear until 1382. This worked on the open field system with land in 4 categories: arable, meadow, pasture and waste. All the land held by any one person did not lie together; all the land under one
type of cultivation was together and divided into strips which were allocated to the various individual holders. Medieval villages were organised so as to be virtually self- sufficient for all food, fodder and fuel. Many of the great fields acquired names that have survived.
The first time when anything resembling the name of Richings is recorded was in 1288 when Ralph at Rychy is mentioned. Rychy may be a corruption of Ridgeway, the name of the large common field on which much of the modern Richings Park is now built. Le Rych Ing, meaning rich water meadow, must have been a favoured meadow to have deserved a mention in 1397 when John Richking is recorded as owning a tenement in Iver with holdings in Thorney and Sutton which could have included Le Rych Ing. Later in the 17th & 18th century the names Riskins, Risquens, Richkins, and Ritchkinges were also given to the Richings estate.
Another common field was Dole Slade