Richings Park today ...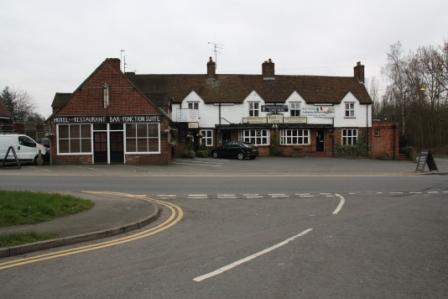 The Tower Arms
(meaning allotted meadow), perhaps nearer a river and therefore richer - a slade being a moist pasture or a little dell or valley. Meadow land to provide hay was very important as it was the only winter feed for stock and this field was shared or "doled out" to holders. The meadow was divided into strips which were often drawn for yearly. This field name survives in the present Old Slade Lane.
The medieval arable land seems largely to have been contained within the square boundaries of Iver High Street, Thorney Lane, Richings Lane(North Park), Market Lane and Mansion Lane, all of them probably Parish thoroughfares then, as now. One of the common fields on which much of Richings Park is now built was called the Ridgeway and was crossed by a footpath that ran from Iver to the junction of Dole Slade with Thorney Lane. Similarly, the routes of access to many of the other common fields in Iver and Thorney have influenced the course of modern roads.
Apart from Thorney clustered round the mill, and the farms the only settlement was the group of 19th century cottages by the Tower Arms which is probably much older and the older houses of Thorney House and Thorney Croft (demolished in the 1980s).
Richings Park Estate
In its early days the Richings Estate did not comprise one compact unit which was passed from owner to owner. At various times the estate has comprised land in Iver, Thorney, Sutton, Langley, Colnbrook and Wraysbury. In the past the estate has been as much linked with Colnbrook as with Iver.
The first record of there being a manor in Richings Park itself dates from around the mid 17th century, although the area had started to achieve some individuality, if only in the manor rolls, in 1377. Various records exist from 1379 and 1397 and early owners included the Edred,
Richking, Aubrey and Martin families.
More recent owners of Richings were:
| | |
| --- | --- |
| 1572 | Several generations of the Salter family, and their relatives Cole, Cleaver & Breton (Britton). (There are Salter Memorials in Iver Church.) |
| c1678 | Sir Peter Apsley who died in 1691/2. |
| 1691/2 | Sir Benjamin Bathurst (brother in law) in trust for Sir Peterís unborn son , who later died, while still a minor, in 1708. |
| 1704 | Sir Allen Bathurst (son of Sir Benjamin) and his wife Catherine (daughter of Sir Peter Apsley) until 1708 as trustees; he was created Baron in 1712 and Earl in 1772). |
| c1739 | Algernon Seymour, Earl of Hertford who became the 7th Duke of Somerset in1748. On his mother's death in 1722 he had acquired subsidiary titles from her ancestors Earl of Northumberland Egremont and Hertford, Viscount Beauchamp of Hache, Baronys of Percy, Lucy, |