Richings Park today ...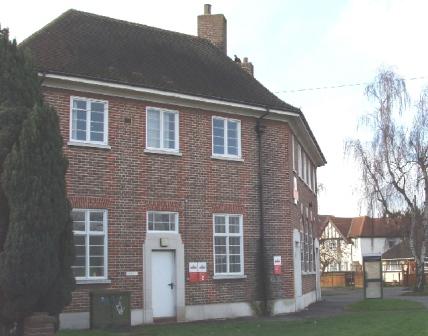 Iver Post Office
Friend Sykes: b. 13 Nov 1887 - The entrepreneur
Harry Sykes: - The functionary
Eric Sykes: b. 18 Sep 1899 d. 1991 - Front man and manager
The brothers were from Ravensthorpe (Dewsbury) West Yorkshire, where their father was a coal merchant. He prospered and the family moved from a mean address, when Friend was born, to Grove House, Ravensthorpe when Eric was born 12 years later. The brothers had a number of property interests prior to the acquisition of the Richings estate and were business associates of Mr W.H. Shaw (of Norman Shaw, accountants, Dewsbury) who became a director of the Richings Park Co. of 1926.
Of the three brothers, Friend the eldest was the entrepreneur and go-getter and seems to have developed a talent for PR. Prior to moving into the property development business he had been working for the then
equivalent of the Ministry of Supply set up during the 1st world war. In this role he toured the country buying standing timber for the government for pit props used in coal mining to replace the vast quantities imported from Sweden but prevented by enemy naval action in WW1. This had enabled him to establish a wide range of connections which were later to prove useful including The Tollemache Estate near Tarperley in Cheshire; Herbert Lushington Storey at Malmesbury in Wiltshire, Lord D'Arbenon's Estate at Esher Place in Surrey and The Meeking Estate at Richings.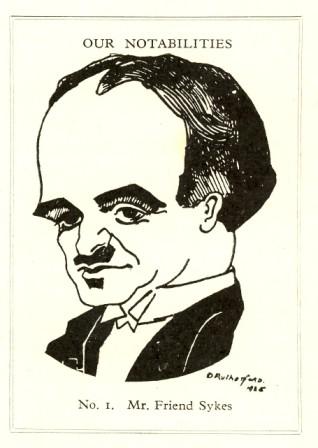 Friend Sykes
Friend initially wanted an estate near
London, with farms which could produce food to sustain the board-lodging for the live-in shop assistants of the Wallis Department Store in Oxford Street in which he had an interest. At that time a number of female employees "lived over the shop" even though it was a department store. After the war the changing world meant that the economics of estates such as Richings were no longer viable. Friend had the acumen to see this and to see how he could use it to his advantage.
Exploitation, pure and simple, however, was not his objective. Having acquired an estate of 4 farms he initially only developed only part of it: mainly the gravel uplift in the north east section, bounded by the 30m (100ft) contour line, which formed the southern part of the medieval Ridgeway field, lying south of the railway line. This was to be a spacious development, with only some 350 plots in the lay-out for the original area.