Richings Park today ...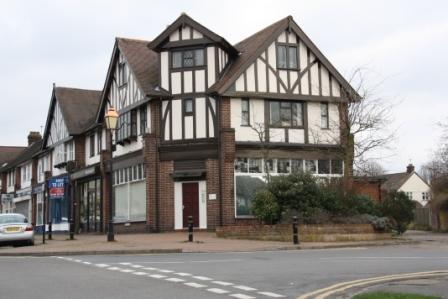 Richings Shops West End
was proposed to create a community centre as a memorial for the future. There were halls attached to the churches and the Tower Arms but these were not really adequate. So a Committee was set up with Mr Crowther (senior) as its Treasurer, which set about fund raising. The cinema was seen as a possible starting point as it had good facilities and could provide for a range of activites. The furniture it had housed during the war had been returned to its owners and it was empty. The Richings Players were keen to perform there again, but Mr Norrish, the owner, was not amenable. The idea of the Community centre was kept alive by a proposal by Bucks Education Committee to build a first school in Richings Park. The necessary facilities which should be added to the school for a community centre were discussed and a site at the western end of Bathurst Walk (before the present houses were built) was considered. However, a similar facility was finally built in Iver instead. The fund was wound up and the money
subscribed was returned, although some suggested that other commemorative purposes should be found for it.
The Recreation Ground/Sports Club
Magazine article by Alan J Seal suggests that a school was originally planned for where the sports club is now but there has been no mention of this elsewhere.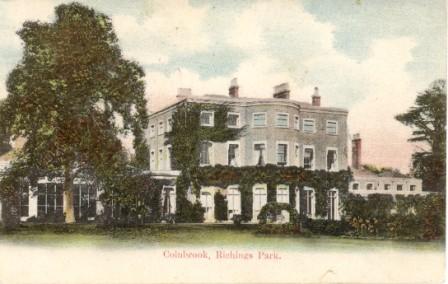 Richings Park Mansion
The configuration of the lay-out of the streets resulted in a large triangular area in the middle being left vacant. The sacrifice of only one house in each of the three surrounding streets could have given
adequate entry to many more than three houses on this 9 acre site but from the beginning it was designated as a recreation ground. The Sports Club was one of the 'original organisations' and remains still active. Other later plans showed an intention to provide further tennis courts but these did not materialise.
Residents' Association Resident's Garden
This corner had been intended in 1928 as a site for Barclays Bank which was never built because Richings Park did not grow as expected and a sub-branch at 32 Bathurst Walk (now the café), as a tenancy, had proved adequate. In 1979 the bank gifted the land to the Richings Park Residents' Association and a not-for-profit trust was set up to take ownership with 2 trustees. These are currently Michael Crowther and Peggy Bowers. The plot is larger than at first appears; the hedge bordering the garden merely represents the building line for the