Richings Park today ...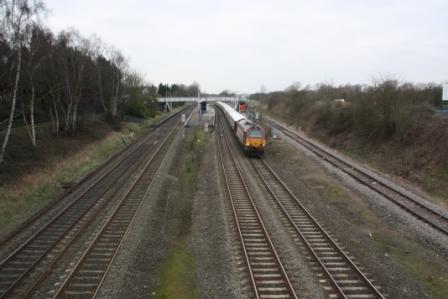 Towards Slough from the Railway Bridge
has photographs of Fitz-Payne Avenue and Beauchamp Avenue. The new development of Northumberland Walk (off Syke Cluan) maintains this tradition.
Syke (sike) is the Anglo-Saxon word for a ditch or water course and still in use in Yorkshire; an Ings was a meadow next to a Syke (in Scotland a Cluan). Much of the land was originally meadow prior to the building of the estate. The first residents of Richings Park recalled a small stream in a ditch running along what was Syke Cluan before it was made up. The co-incidence with the name of the Sykes brothers was well taken.
Other local properties
Thorney House - a listed building of historic and architectural interest. It was probably once the Dower House of Richings and as such perhaps intended as the residence for the mother or son of the owner. In 1883 (and possibly earlier too) Col Charles Meeking and his family lived there while his widowed
mother resided at Richings. At times Thorney House became the residence of senior estate workers. During the latter part of the Meeking years James Cox Macro Allen Wilson, who acted as Land Agent and Surveyor for the Richings Estate, resided at Thorney House with his wife Ethel Mary. He gave its address as Colnbrook. (Information from Census). The old Coach House and stables for Thorney house were at what is now Maytrees near St Leonard's Church.
Thorney Mill - one of the three parish mills recorded in the Domesday book, the others being Iver and Huntsmoor.
Tower Arms - owned by the Tower family. In 1850 it was probably called the Hare and Hounds Beer House in Thorney. In 1851 and 1861 it was listed as the Fox and Hounds. It was known as the Tower Arms by 1874.
The Tower Cottages - on Thorney Lane South were built in 1868 in the rustic gothic style popular at the time. Ada Heath (who came from a Cowley
family) lived in one of the cottages (No 12) in the 1930s and worked in the laundry on North Park.
North Star.
Thorney Villa.
Thorney Weir Cottage.
The Estate Farms
The original estate had 6 farms, four of which were sold to the Sykes brothers.
Sutton Farm occupied the land from Sutton Lane and Market Lane to the canal. Whilst part of the Tower estate its tenants included Whittington, Leader and Cutler. It was sold to the tenant Mr Robert (Bob) Purser (cousin of Frank and step brother of Clifford Reeves) by the Meeking Trust at the same time as the rest was sold to the Sykes. He ran it with his wife Ursula and son Richard.
It is not clear which is the 6th farm belonging to the estate - Parsonage Farm on the corner of Hollow Hill Lane