Richings Park today ...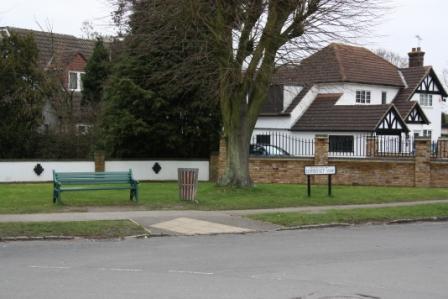 Somerset Way
Farmer's/Bailiff's Cottages". The commission at Richings Park seems to have enabled him to expand his horizons. The booklet had several editions, the last being in 1951, when he was aged 83; by then it was called "Ideal Homes in Rural Areas".
Clare's booklet also states that the blocks were tested and approved in 1917 by the Ministry of Health and received favourable comment in the Architect's Journal (for 20 April 1921) which drew attention to the use of similar blocks in the USA and France, already at that time in use "for nearly 20 years". A list is given of district councils who had adopted the blocks for economy and speedy erection: Harrow, Wembley, Eton, Weston-Super-Mare, Leicester, Birmingham, Croydon and many others. Locally, later generations of residents of Richings Park do not perceive Clare's blocks in the same way as their creator saw them!
Clare's designs acknowledged the advent of the motorcar with far more
foresight than was common at the time. Almost every house was provided with a garage or the space in which to build one later. Since all but a few houses were detached, this meant that each had an average frontage of 40-45 feet to the street.

Richings Park Brochure
With gardens at the rear of 200ft (average) each household had plenty of family space and, as gardens matured, the prospect of not being over-looked. The streets were of some 20 feet width (carriage way) and provided with tree planted verges and good footways; houses were set well back from the street - 40ft being the average (much further in a section of Somerset Way and of Wellesley Avenue
where verges became lawns). The verges were often planted with ornamental trees with the exception of Wellesley Avenue which was planted with lime trees. This was all to create a desirable spacious development in which to bring up a family; a model "Garden Village" of family homes, affordable by post World War One "Pooters"; professional men of average means seeking the much vaunted "homes fit for heroes".
Original purchasers selected their design of house from 12 designs for detached, semi-detached and bungalows and were given some choice in the site of the design they had selected. A variety of individual modifications were also available. Subsequently the designs were located and presented, where they were, to prospective purchasers. The streets, however, are not entirely composed of a universal medley. Each street deliberately has its own