Richings Park today ...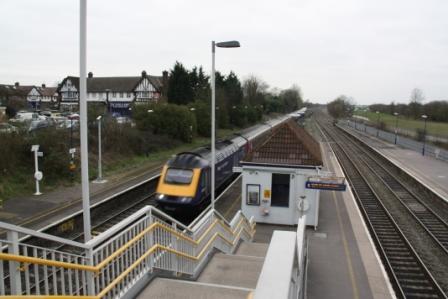 Fast Train to London
extending westwards behind Bison/Tarmac to Hollow Hill Lane. Restoration was by rubbish infill and soil (certainly not the original top soil) over the top and was not completed until 1979. More recently there has been a problem of methane being generated by the waste and flares have had to be installed. The Wingroves were not given the opportunity to re-occupy the land and Rayner of Horton (who also farms other Hall Aggregate land) used it for hay crops after much application of manure. In 1982 there was a 'gypsy invasion' onto this land and following this BR put in, at narrow intervals, iron girders deep set in concrete to bar access. This did not prove effective as the girders were regularly pulled out. Eventually in 1989 BR put up a large earth bund incorporating the girders and an official gypsy site established off Mansion Lane. Some trees were planted on the rest of the land but it was mostly left derelict. It was proposed that the area should be landscaped and incorporated into the
Colne Valley Park and managed as a public access area. However, proposals were made by BR in February 1984 to use it for a 'park and ride' scheme with a Heathrow interchange. This led, in July that year, to a proposal to establish a motorway service station on the site as a joint venture with BR. These plans were withdrawn in Nov 1989, since which time nothing has happened to this site although proposals abound. In the 1970s the Mansion Lane site was the subject of a proposal for a national transhipment depot. This was rejected but there are still plans afoot for such a development to be sited there.
In 1948 the railway granted a lease on the western end of the land, on the site of the old gravel pit, to Holland & Hannen and Cubitts and manufacture of pre-stressed concrete began. It is a moot point as to whether this ought to have been allowed to happen as this was not an area scheduled for such activity as was the Ridgeway
Estate. By 1962 the site had expanded and was occupied by Bison and Tarmac and an increasing number of others with a range of activities. High rise cranes came and the noise of reversing machinery and bright lights at night as well as early morning noise from trucks bumping down the access road has continued to provide annoyance for residents. The companies remained leaseholders from the railway until they sold it off recently. It has now become a business park which seems to be a storage facility for a large number of commercial HGVs and the school buses.
It is also not entirely clear by what permissions, if any, Court Lane Estate came into being. There is a view that a breaker's yard set up business and was able to claim de-facto recognition when planning decisions became more carefully defined and rigorously enforced (!). Court Lane now has a new owner and further changes are in-train for this area of land.