My name is Raymond Smith and I now live in John Street, Rochester, Kent. I was born on the 30 October 1930 at No2 Home Farm cottages. My parents married in March 1929 and later they rented No2 (actually at that time 1 and 2 had been knocked into one).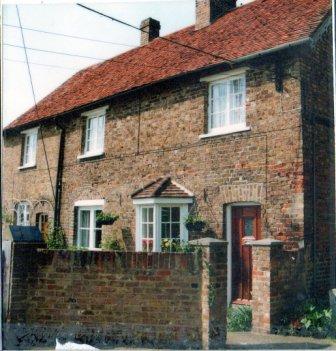 Our Cottage at Home Farm
The terms of rental were that they would feed and care for any farm workers that needed accommodation. I remember two: Patrick O'Brien (sic) and Matthew Lawless both from the republic of Ireland. After the landmine that damaged Richings Lodge, and damaged our home, Patrick disappeared from my horizon. Mathew went to lodge with a workmate and friend of my father, the Clinkhards (sic), in Bathurst Walk.
I lived at the farm until c. 1940 after which my family had various lodgings in Richings Park. First at Himlea, Bathurst Walk and later at 2 Tower Cottages opposite the Tower Arms Pub (my Dad's local). I was smuggled in the public bar, with the connivance of the then landlord.
In 1944 we moved from the area to Burnham. My father was an ex-cavalry man, 9th Lancers, and he used to be invited to "ride out" some of the horses with the then Master at the big house. My father worked at the Brittanic Cable co., north of the canal, with messrs Clinkard & Lawless. I remember Mr Goddard from the mansion, and I played with their son John; they moved to west Slough after the house closed. There was a water pump house halfway between the gates on the entrance road to the farm and the farm buildings themselves. The water was pumped to a big tank housed in the roof of the arched entrance to the complex.
Mr & Mrs ('Grannie') Nestling ran the walled garden and the produce went to Nestlings shop in Thorney Lane.
There was also a Cycle shop, which charged radio wet batteries, and a Chemist where I was treated for many minor injuries. A Miss Goodchild looked after the milking herd and lived with her mother in one of the cottages.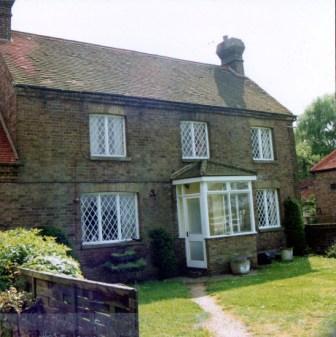 Miss Goodchild's Cottage
There was a chauffeur/carriage driver living in another cottage, who had two daughters and moved to the Birmingham area. There was one flat which was occupied by the farm manager (I think). The house we lived in had a black grape vine covering all of the south face, and we used to crop the grapes and make wine. I remember treading grapes. I sneaked off and drank some the wine on one occasion and got very drunk, but was alright after 24 hours' sleep!! There was a communal clothes wash-house where all convened on Mondays and all helped each other with the laundry.
During the bombing of the Hawker airfield I remember both single aircraft attacks. One we were in the garden of the gatehouse to the farm entrance road when the bomber appeared out of the clouds and the anti-aircraft defences opened up. One large shell exploded right behind the aircraft's tail, and we were told later the plane came down in the Staines area. My father suddenly realised about all the red hot shrapnel flying in every direction and hustled us all indoor of Mr & Mrs Bullock's bungalow.
The second was during school time and all we could do was dive under our desks - I banged my head badly on desk top and seat doing so. There was one other bombing of Hawkers - it was during the early evening and it was dark.
It seems 42 bombs were dropped as I was told, what with the noise of the bombs and firing of the anti-aircraft guns on the train that ran to & fro on the main railway line. The train carried a range of guns from a large one down to machine guns.
We were having a social evening with the Clinkcards whose house backed onto the railway; they lived in Bathurst Walk almost opposite 'Himlea' where we were lodging at that time. It was the one occasion when I collapsed in terror.
Mr Cookson's shop took all my sweet coupons; it was mind-bending deciding what to have as it was so little. I did thirteen paper rounds a week for the Churms newsagents in Station Approach and Saturday mornings I did greengrocery deliveries for the shop a couple shops along - I don't remember its name. The other landmine to the one that fell in the ha-ha (they were always dropped in pairs) got hung up in the trees of Chestnut Avenue. We were all evacuated into the park while it was defused. Miss Goodchild's Mother had lots of trouble getting there and a chair was taken out for her. It was defused successfully after the young naval rating, who had to make out his will, helped out the senior officer who was doing the defusing.
One further thing, sometime in 1942/43 the last two coaches of a London bound express caught fire and they uncoupled right outside the Iver signal box. I stood and watched them burn and the passengers walking to the other part of the train. They kept the other rail traffic moving on the slow lines, not something they would do these days! A picture of the burning coaches appeared on the next day Daily Express paper (I think it was the Express). Oh how I would love to have a copy of that photo.
Seeing in the memoires of one of your correspondents a reference to opera singer Oda Slobodskaya: I knew her as Mme Odette Sloboskaya or Mme Pelly. I think she was married to a Frenchman.
They lived in the first detached house in North Park beyond the main entrance to the drive to Richings Lodge going west. I know of Mme Odette because my Mother used to do domestic work for them - 'charing'. My Mother would take me with her some days, school holidays etc. Whenever Mme Odette saw me she would throw her arms in the air and say 'Ahhhhr Rrraymondd how are you?'. Being a lady of generous proportions and heavy makeup around the eyes made me very nervous and I would hide behind my Mother. Mme Odette would spend many hours in her music room singing up and down the scales.
Mum also did work for a family in Syke Ings - not sure which house - but in later years I used to go round with a greengrocer from a travelling family, Len Denning, who had a camp on Thorney Farm. He used a horse-drawn, round-topped, rubber-tyred van, and he would give me a trug with a selection of vegetables he had for sale. I remember going to the same house in Syke Ings, to the back door of course, but I was never recognized.
My parents belonged to the National Deposit Friendly Society and I guess they used that to pay for medical treatment. Our doctor was Dr Cousins from Iver village, and as a child I had great faith in her. I know my Mother had to have a kidney operation, my father a broken leg at work at the cable factory, and I had dental work at The King George V Hospital in Windsor.
Another family I remember from Home Farm was the Bucklands' 'Manager'. After closure they moved to a bungalow just off the A4 in Colnbrook. Like other people a Saturday highlight was to go to Slough shopping.
Our furniture was stored in the Plaza cinema until withdrawal in 1944.